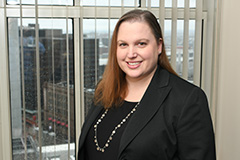 Michelle A. Fraioli
Boston, Massachusetts

Associate


phone

(617) 951-2777


fax

(617) 951-0989


email

Email Me

Michelle graduated from Bentley University (BS 2002) with a degree in Business Management. Upon graduation Michelle began her career in business and finance. Michelle obtained her JD from Suffolk University Law School in 2007.

Michelle combines her financial and business background from Bentley with her legal background from Suffolk to provide an integrated approach to legal matters. Her financial and legal background is a great asset to understanding the complexities of the US taxation system. Her business background can add depth to the legal analysis of corporate and compliance matters

Michelle has provided legal services for individuals and companies dealing with US tax compliance and disclosure of international assets and tax planning for relocation into and out of the US. She has assisted with non-profit organizations applying for and successfully being granted tax-exempt status.

She has extensive experience with the various IRS offshore disclosure compliance programs) for US taxpayers to report their previously unreported offshore income and disclose their non-US assets. She has worked with individuals, estates and corporations to become complaint with the US tax laws regarding their worldwide income and assets.

She has represented individuals in tax controversies with the IRS and MA Department of Revenue.

She prepares US tax returns and compliance forms for individuals, trusts, corporations, partnerships and non-profits. She prepares reporting forms for ownership interest in offshore entities, assets.

Michelle's practice also includes Estate Planning and Estate Administration. She has drafted and updated estate plans and handled Massachusetts probate matters. Michelle has also represented foreign estates which contain US property.
Michelle has been a guest lecturer on international tax topics including US income taxation of foreign income and assets, foreign reporting requirements and the IRS Offshore Voluntary Disclosure Programs.