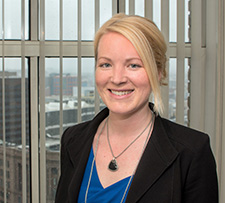 Emma A. Kremer
Boston, Massachusetts

Associate


phone

(617) 951-2777


fax

(617) 951-0989


email

Email Me

Emma A. Kremer is an Associate of the Firm with focus on the following areas: estate planning, administration and litigation; family law, including divorce and child related issues; taxation; and general litigation matters. Prior to joining the firm, Ms. Kremer maintained her own law practice while acting as Of Counsel to two different Boston law firms, one specializing in civil litigation and defense, and the other in general practice which included, among others, estate planning and real estate transactions. Her own practice focused primarily on family law, estate administration and general litigation matters.
Ms. Kremer is a Dean's List graduate of the University of Miami, Florida, and graduated cum laude from New England Law, Boston. While in law school, she received The Center for Computer-Assisted Legal Instruction Award for her coursework in Taxation of Estates, Gifts & Trusts and, as a participant in a semester-long Tax Clinic, drafted decisions for a Commissioner of the Massachusetts Appellate Tax Board in Boston.
Ms. Kremer was selected to Super Lawyers Rising Stars for 2019 and 2020. She is also an active member of the Massachusetts Bar Association.